Presenting…MyLeaky. Your Harry Potter.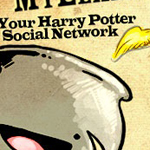 Jan 30, 2009
Uncategorized
All right. Let's try this again. Today, Leaky has been radically reshaped forever.
Presenting…MyLeaky. Your Harry Potter.
MyLeaky is now the largest Harry Potter social network on the Web. We have been talking about doing it for years and working on it for many long months and can hardly believe it's finally here.
Leaky has now become your central place for interacting with your Harry Potter friends. Through your profile, you can message your friends, create and join groups and events, and interact in ways that you will find similar, but definitely Potter-ized, to other social networks.
MyLeaky is FULLY integrated into Leaky. You must be a member to leave comments on the site. You will not leave the site while using it.
If you have ever signed up for an account at Leaky, you are already a member. Member of the LeakyLounge? Done. Have a LeakyLogin? Sorted. This means there are already more than 75,000 members waiting to join you online.
But that's the very beginning.
When you first sign in, you will assign yourself a house. Choose wisely, because your house will be like your family at MyLeaky. Nearly everything you do on the site, and on the main Leaky page, and soon to become every other area at Leaky, will earn you points for your house. Top earners will win rewards; we will award house cups, host scavenger hunts, and much, much more.
Also, for the first time EVER, Leaky now has house-colorized skins, which you can only currently access by being a member. These will work nearly site-wide and you can expect more to appear in the future.
Are you in a wizard rock band? Then it's definitely time to sign up at MyLeaky. Wizard rock bands can now have their own specialized profiles, with the ability to upload music, post your upcoming shows, gather fans, and much more. We already have some bands in there who are waiting for your fanship:
Harry and the Potters
The Remus Lupins
The Moaning Myrtles
The Whomping Willows
Tonks and the Aurors

The Mudbloods
And the best part is that MyLeaky is fully customizable, which means this is NOT the end of our development of the program: It is merely the first step. As MyLeaky grows, your input will be vital to its expansion, and to making sure you have a great experience.
Enough from me. If you want to experience MyLeaky yourself, go ahead. Sign in at the top, or here, or register here and join the tens of thousands of Harry Potter fans who are waiting.
We have longed to bring all our users together under something like this for a very long time. We have some people to thank.
All the staff have worked tirelessly on this project; John Noe has provided deisgns and tweaked every graphic and skin, Frak has provided sketches, and Ashley designed our headers. Sue Upton and Doris Herrmann and Nick Rhein provided endless technical (and tactical) support and a handful of dedicated mod testers and wizard rock bands have been helping us iron out the bugs for months.
Over the past few days Nick Poulden almost singlehandedly rescued us from a server overload.
But really, guys, I have to ask you a favor. If you have a moment, before you run over to MyLeaky and start having that ball, can everyone give a large cheer and thanks to Alex Robbin, our resident super programmer? Alex Robbin is 18 years old. He coded MyLeaky from scratch. He has been working to nearly all hours on this for several months, with an intensity and ferocity we've never seen. I've extolled his virtues so many times here, but really, words here really do fail. The only thing we can do is all stand up and cheer, and hope that enough voices join the chorus that it comes even marginally close to expressing how we all feel. You can also now do that via a MyLeaky group for that purpose.
Thank you, Alex.
Now go enjoy MyLeaky, and welcome!