PotterCast 183: Accio Nerdfighters!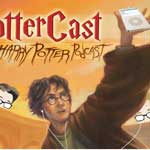 Feb 04, 2009
Uncategorized
The 183rd episode of PotterCast, our Harry Potter podcast, is now online and just got a whole lot nerdier! This week, the PotterCasters are joined by none other than Vlogbrothers John and Hank Green for a live show which features a ninety minute discussion on a number of topics including: Harry Potter, Brotherhood 2.0, the Nerdfighting phenomenon, and more. The show starts out with a quick run down of the latest Harry Potter news from Sue, with talk of the recent accident on the Deathly Hallows set, info a screening of Rupert Grint's latest film Cherrybomb, the price of registration increasing for LeakyCon 2009 (along with some exciting Con-related news), and news regarding two books edited by Cheryl Klein winning honors at the ALA Awards.
The PotterCast Quartet then dive into the main discussion of the show, speaking with John and Hank about how the Vlogbrothers project began, the song by Hank that linked Harry Potter with the Vlogbrothers, the books by Printz-award winning/NYT Bestselling young adult novelist John Green, Hank's passion for environmental technology with his website EcoGeek.org, the start of Nerdfighters, the Project For Awesome, and so much more. We then take some phone calls for the John and Hank from a number of the listeners, and answer a number questions from the chat Question Tuesday style. Finally, Hank and John help us wrap up the show with some more LeakyCon talk, Wrock Reggies memories, Hank's CD So Jokes, and the Deathly Hallows Epilogue. To listen, just
hit the "Play" button on
the right
side of the
page (–>), or use iTunes, or direct download. And, DFTBA!
"Accio Nerdfighters!"
The Vlogbrothers John and Hank Green join us this week and the PC4 do their best to not forget to be awesome.
Are John and Hank coming to LeakyCon? Listen to find out!
"Accio Deathly Hallows" by Hank Green.
The Harry Potter versus Twilight debate and how it's STUPID.
Harry Potter and the Inconvenient Truth.
What do you have against Tonks?
"Save the freaking world, dude! Crank this crank and power the entire country!"
Cameo's pun.
Pirates, ninjas, Vikings, wizards. Or Jedi.
Wanding each other.
The kind of things that eccentric thousandaires do!
Harry Potter, one of the great characters in the history of contemporary literature.
"Why are there only two corndogs?"
Conjoined twins.
Nasty tapeworm.
"Oh God, the scar is about to trouble him…"
Special thanks to the group of Mods who patrolled the live UStream chat.
So much more awesome it can't be named… what are you waiting for? Go listen!
Hank's EcoGeek.org website.
John's website, Sparksflyup.com
The Nerdfighters Ning Community: Nerdfighters.com.
Buy Hank Green's CD, So Jokes at DFTBA records.
Buy John Green's book, Paper Towns.
Go to youtube.com/pottercast for our daily vlogs.
Register for LeakyCon 2009 now!
RT: 95:02
Producer: John Noe
LeakyCon 2009: A Harry Potter Conference in Boston
"Harry, A History" Website
Jingle Spells 2
PotterCast Vlogs
Podcast Alley
Digg
Direct download low-bandwidth.
Remember you don't need an iPod to listen. Listen easily on iTunes, which you can download and install here, by clicking here to listen, or you can just use the streaming Flash player at PotterCast.com or just on the right side of this page. Discussion of the PotterCast is right here. Enjoy!