Rupert Grint Talks Deathly Hallows, First Footage from Cherrybomb Now Online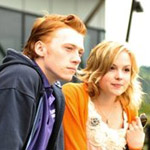 Feb 10, 2009
Uncategorized
At the premiere of his new movie, "Cherrybomb," actor Rupert Grint (Ron Weasley) took part in several new interviews, one with our Order partner Rupert Grint.net which you can listen to via this link. Also, SpiegelTV has a new video interview with Rupert now online, that contains new footage and a clip from Cherrybomb; to watch click here, red carpet footage of Rupert at the premiere can be seen here.
Finally, The Hollywood Reporter also interviewed Rupert, where he mentioned the upcoming Harry Potter and the Deathly Hallows. In the brief report, Rupert says he has now seen the script for the movie, and is looking forward to the filming, but has some thoughts as to what it will mean when filming is complete. Quotage:
Grint will start shooting this month on the final book of the seven
in the "Harry Potter" series, which is being made as two films at
Leavesden Studios in Watford. "Fourteen months for Part 1 and Part
2, more or less back-to-back. It's going to be long, but it's going
to be good I think, I really liked the book and the script," he
said. "It's going to be quite a thing when it's over because it'll
be half my life exactly. I think I will miss it, because I've had
some good times on it.
Thanks so much Claire!