Patrick Doyle Talks Mike Newell and "Goblet of Fire" (Updated)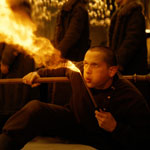 Feb 11, 2009
Uncategorized
Last week we told you acclaimed Scottish composer Patrick Doyle (Henry V, Gosford Park) would be here in the US to hold a special screening of Harry Potter and the Goblet of Fire at Syracuse University in New York. The Daily Orange has a report online of the event, where Patrick Doyle discussed his score for GoF, working with director Mike Newell, and becoming part of the Harry Potter world. The piece notes that Mr. Doyle felt "working on "Harry Potter" was unusual, he said, because he worked
closely with the director as well as the sound designer, editor and
conductor to integrate the music and make it an essential part of the
film. "
The article continues: "Doyle was chosen by Mike Newell, the director of the fourth film, for
three reasons: His sense of drama, his sense of magic, and his sense of
humor. Doyle had previously worked with Newell on the movies "Into the
West" and "Donnie Brasco." Newell wanted him to work on the film over a
period of a year, taking part in the process from the beginning stages.
Newell also influenced Doyle's score.
"The director's
vision definitely helps," Doyle said. "You're inspired by the script,
costumes, enthusiasm of the director and the characters."
On the reaction by Harry Potter fans: "But Doyle couldn't foresee what writing the score for "Harry Potter"
would unleash for his career. Becoming a part of a worldwide sensation
was something he didn't see coming.
"I had already done nearly 14 movies so from my perspective, I was doing rather well," he said.
…
"It's incredible how people get gaga over 'Harry Potter.' As much as I
appreciate it, in many ways, it was just another film," he said."
Update: TLC Reader Kerry was fortunate to attend the event, and sent in a lengthy report on the proceedings. Of note are two passages on Mr. Doyle and the music heard in GoF. Enjoy! Thanks so much Kerry!
size="3″ face="Times New Roman">In response to a question from
a professor in the College of Arts and Sciences, Mr. Doyle went on to
discuss his ideas surrounding his abilities to create sonic meaning
in the films for which he composes scores. He began by saying that you
need, first and foremost, a sympathetic and flexible sound engineer.
Without it, you'll be struggling
to find the right balance which will
often result in a confusing sonic environment for the audience. He went
on to say that good film composers take into account both diegetic and
non-diegetic soundscapes (that's both the underscoring and the sound
happening within the characters' environment ' such as music from
the Wizarding Wireless playing in the Weasley's kitchen or the stomping
of the staffs of Durmstrang students ' for those of you keeping score
at home). Fortunately for Mr. Doyle (and, in turn, for us Harry Potter
fans), he had the opportunity to be involved in the entire process.
He also said that the meticulous and almost militaristic schedule for
filming was also a tremendous help to him. He said that he "probably
has a bad case of Obsessive Compulsive Disorder" and this schedule
was very much akin to his creative style. To further the discussion
of his vision for the sonic environment for the film, another student
asked him about his level of control over the choices for "Mickey
Mousing" (that's the instrumental sound you hear to reflect an action
' such as when Harry is flying away from the dragon and you hear an
ascending glissando from the orchestra or when you hear the accented
rhythms on the drums when the Durmstrang students enter the Great Hall
and do their indigenous-style dance), to which Mr. Doyle told us that
he had complete control over those particular moments in the film. At
this point, he quoted Shakespeare by saying "brevity is the soul of
whit", which to him, was an expression of his feeling of freedom when
composing a score for a film that has already been completed. He said
it was a joy to know that you'd be hearing something at a particular
point and it made it that much easier to compose the film score.
size="3″ face="Times New Roman">A long conversation was then
had about his techniques surrounding his compositions how technology
has transformed his career. Mr. Doyle said that, after having been a
composer for 30+ years, he now has the courage and confidence to notate
what he hears with his inner ear, whereas before he never really trusted
himself. This
statement was in reference to his ability to improvise
a waltz (Neville's Waltz) for the scene in which Mcgonagall is teaching
the Gryffindor students how to dance. He said that he improvised a melody
for the rehearsal with the expectation that he'd write something else
to be used in the final score, but the production team liked it so much
that they kept it for taping. Mr. Doyle also spoke about his vision
for the Hogwarts Song, which was never used for the film. He told us
how the deadline was fast approaching and he had nothing to offer in
his meeting. When in the taxi on his way to the meeting, Mr. Doyle found
inspiration. He envisioned the four tables in the Great Hall all standing
and singing the song in a round. This prompted another question about
his favorite places to compose, to which he responded, "I've written
in the toilet, but only once!" His advice when facing writer's block
is to "open yourself up and chill out". He then described his old
techniques for composing which often included using a broken Fisher
Price tape recorder. Recently Mr. Doyle has begun using the program
Logic for his notation, after much trepidation, but said that it has
"changed his life".
size="3″ face="Times New Roman">Overall, the evening was enjoyable
and often peppered with anecdotes. Mr. Doyle told us about how he admires
Irving Berlin for his simplicity, saying that "Irving Berlin is the
King!" He went on to tell us about a particular instance when Mr.
Berlin was asked for his permission to use a song in a film and, at
99-years-old, Mr. Berlin said that he had "plans for that song"
and would not give his permission to use it in the film. To that, Mr.
Doyle said, "I want to have plans when I'm 99-years old!" He also
told us about his childhood in a musical family. In particular, he told
us about how one of his aunts would refuse to sing unless the lights
were turned off, so he'd be sitting there in his family living room
when he was fourteen listening to this disembodied voice coming from
the corner of the room. He said that it was a very strange experience,
especially to a fourteen-year-old boy, but admitted that when she sang
with the lights on you'd wish that she had turned the lights back
off again! One anecdote that stuck out was his process for gauging his
success for some of the music that he hoped to use in Harry Potter
and the Goblet of Fire. He told us about how he would play some
of the music for his children to see if it passed "the cool test".
Apparently, Mr. Doyle is "very cool" in the eyes of his children,
and I would have to agree. Very, very cool!