New Half-Blood Prince Video of Inferi, Death Eater Attack on Burrow, Hermione Setting Birds on Ron and More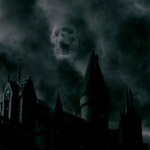 Feb 23, 2009
UPDATE: The new HBP footage is available for viewing and download here via our video galleries. Enjoy!
Hang on everyone, as new video from Harry Potter and the Half-Blood Prince is online via this link. MSN Australia has what seems to be the HBP "First Look" footage and interviews that were being shown as a preview in movie theaters including: Dramatic shots of the inferi in the cave surrounded by fire, the Death Eaters attacking the Burrow with more of Bellatrix, Ron and Lavender snogging, Hermione setting the birds on Ron, Hermione talking to Slughorn about the Felix Felicis and more. There are also new interviews with Dan Radcliffe (Harry), Emma Watson (Hermione), Ron (Rupert Grint), as well as from Potter producers David Heyman, David Barron and director David Yates. We hope to get this into our galleries asap, and will update when we can. Enjoy!
Update: Footage is also available via Youtube.
Thanks Sara!