LeakyCon 2011: July 14-18, Orlando, Florida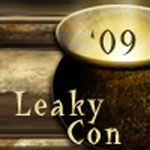 Feb 24, 2009
Now that we have a confirmed date, we are happy to announce: LeakyCon 2011 will be July 14-18, 2011 in Orlando, Florida.
It's going to be a huge party, that we can't wait to share with you. Let's celebrate the end of this gloroius time (and the beginning of a new one) as we should: together, with the charitable spirit that has been the hallmark of this fandom. More details in the coming months.
Remember, the first LeakyCon is this May 21-24 in Boston, MA. More details at the link!