Harry Potter Books at Auction: First Edition Philosopher's Stone Selling at Record Prices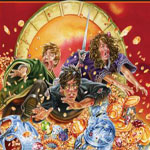 Feb 27, 2009
Several pieces of news today regarding Harry Potter books up for auction. First thanks to Heritage Auction for letting us know about a first edition Bloomsbury copy of Harry Potter and the Philosopher's Stone (Sorcerer's Stone) they have for auction. Heritage let us know this book is "a rare true first edition of Harry Potter and the Philosopher's Stone '
one of the original 200 copies in the publisher's illustrated stiff
wrappers from the initial 500 copy print run." The Los Angeles Chronicle is reporting the book, due to go live online for the auction March 6 in Texas, is already "going for $15,000; nearly $18,000 with the buyer's premium included.The previous auction record was $10,750," said James Gannon, Director of Rare Books at Heritage Auction Galleries in Dallas." The paper continues:
The anonymous consignor, described by Gannon as "an avid book collector
from England," said he's frankly surprised — and delighted — at the
early bidding: "It takes a lot to shock me, but this is probably as
shocked as I have ever been regarding auction bidding. Has the world
gone mad? We are in the deepest recession for 80 years and a Harry
Potter children's paperback book is setting a record price."
In a release to TLC, Heritage said: Not only is this the first edition, first issue of the greatest fantasy
saga of our time' said James Gannon, Director of Rare Books at Heritage,
"but it comes with an added bonus ' an illustrated card duplicating the
front cover art and signed by J. K. Rowling. Last October, we sold a
first edition in the original wrappers almost exactly like this one for
$10,755, but it was not accompanied by Rowling's signature, making this
copy even more desirable." You can see this book, as well as another Harry Potter book that will be included in the online auction March 6 via this link.
On a related note, a JKR signed copy of the UK edition of Harry Potter and the Deathly Hallows is up for auction, with proceeds to help the fight against pediatric HIV and AIDs in children. This auction is ongoing and runs until March 3rd.
Thanks Brenna and Richard!