EP Club 2009 Now Available!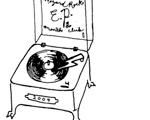 Mar 04, 2009
Now in its third outstanding year, the Wizard Rock EP of the Month Club is here! In its first two subscriptions, the club has raised nearly $30,000 for charity by releasing 24 CDs. This year will bring another crop of awesome fundraising for great causes, and features EPs by:
Harry and the Potters
the Whomping Willows
the Moaning Myrtles
Tonks and the Aurors
Peeved
Swish and Flick
Mary and the GrandPres
Danny Dementor
RiddleTM
MC Kreacher
Shrieking Shack Disco Gang
…plus a surprise!
There are ONLY 750 subscriptions available, which is less than previous years, so be sure to reserve your copy. The price isof subscriptions remains $60 for US and Canada, and $75 for all foreign countries. For that you get limited edition, exclusive tracks from all the bands listed above, mailed to you at your house.
You can see a preview of one of the songs from Tonks and the Aurors at the HP Alliance's YouTube channel, or just right here:
>
Visit WizardRockClub.com for more!