WB Releases New Half-Blood Prince Trailer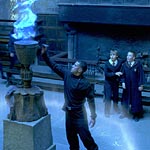 Mar 05, 2009
Our PotterCast about the trailer will be live on the stream shortly!
Screenshots available thanks to our awesome galleries staff HERE!
In this trailer released by WB, Dumbledore narrates the story of Tom Riddle. We see glimpses of the inferi, more orphanage footage, the gates of Hogwarts as Harry and Luna travel up to them, Harry under his invisibility cloak on the train, Dumbledore grabbing a chain from the cave, a close shot of Narcissa, Draco working on the wardrobe, explosions in Diagon Alley and fire at the Burrow, Harry battling off the Inferi, Fenrir Greyback, Harry shouting at Snape, the bridge collapsing, and another "Once again, I must ask too much of you, Harry."
We will continue to update this page with more info so stay tuned!
LEAKY VIDEO GALLERIES (brought to you by the coolest video team on the planet)
WINDOWS STANDARD

Large
Medium
Small
QUICKTIME STANDARD

Large
Medium
Small
Low
IPOD

iPod