J.K. Rowling's The Tales of Beedle the Bard on Shortlist for British Book Award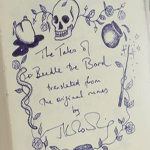 Mar 10, 2009
The Tales of Beedle the Bard written by Harry Potter author J.K. Rowling have been nominated this year at the Galaxy British Book Awards. Beedle the Bard is on the shortlist for "Children's Book of the Year," along with a few others including: Breaking Dawn by Stephenie Meyer, Captain Underpants & the Preposterous Plight by Dav Pilkey, Artemis Foul & The Time Paradox by Eoin Colfer, Horrid Henry Robs the Bank by Francesca Simon, Dinosaurs Love Underpants by Claire Freedman & Ben Cort.
Also actress Julie Walters, who portrays Molly Weasley in the Harry Potter films, has been shortlisted in the Biography of the Year category for her book, That's Another Story. Actress Dawn French (the Fat Lady in PoA) was also nominated in the same category, for her autobiography Dear Fatty.
Finally, UK audio book narrator Stephen Fry has been nominated in the Popular Non-Fiction category for his book, Stephen Fry in America.
Voting is now open to all online via this link, and will run until Saturday, March 28th.
The winners of the Galaxy British Book Awards will be announced Sunday, April 5, 2009 in London, England. Congratulations to all!