Visit to Set of Deathly Hallows for Students Who Raised Money for Red Nose Day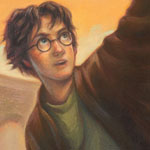 Mar 11, 2009
Twelve children and two teachers will be receiving a bit of a treat as their reward for raising money for the Comic Relief charity. The Watford Observer reports that a UK celebrity and host of a UK reality program Davina McCall paid a visit to Parmiter's School, and told the students that as a reward for all their charitable fundraising efforts they "would be treated to a tour of the Harry Potter set at Leavesden Studios.
The group will also watch some filming and meet stars Daniel
Radcliffe (Harry Potter), Emma Watson (Hermione Granger) and Rupert
Grint (Ron Weasley).
Footage of the visit, held last Wednesday at the school in High
Elms Lane, will be shown during the Comic Relief programme on BBC1 on
Friday evening."
You can learn more about the Red Nose Day and Comic Relief Charity event, here.