Harry Potter Movies Being Filmed at Leavesden and Pinewood Studios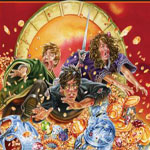 Mar 25, 2009
There is a new article online today regarding studios and the filming of the final Harry Potter movies. The Telegraph reports that legendary UK film studio Pinewood Shepperton "pushed full-year profits on
by 12pc to £5.9m pre-tax in 2008, benefiting from the filming of Slumdog
Millionaire, Mamma Mia! and Harry Potter and the Half-Blood Prince."
As readers will long recall, the bulk of filming on the Harry Potter films has taken place at Leavesden Studios. Only recently we at TLC first brought you these photos of a set under construction for the Deathly Hallows films at Pinewood. Today, the Telegraph article confirms that some filming for the final installment in the Harry Potter series will be done at Pinewood as well. Quotage:
Films scheduled at Pinewood Studios this year include the next installment of
Harry Potter, Harry Potter and the Deathly Hallows: Part 1.
The company warned that film revenues in 2009 will be strongly weighted to the
second half.
As a reminder, you can also see photos of the now permanent sets used for the Harry Potter films at Leavesden, such as Hagrid's Hut, the Burrow, Privet drive and more in our galleries.