Rhys Ifans to Play Xenophilius Lovegood in Harry Potter and the Deathly Hallows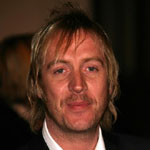 Mar 27, 2009
Tonight, scores of readers let us know that actor Rhys Ifans announced on the Friday Night with Jonathan Ross program broadcast this evening on the BBC that he would be appearing in Harry Potter and the Deathly Hallows. While Mr. Ifans did not state which role he would be portraying, TLC can report that Rhys Ifans will be taking on the part of Xenophilius Lovegood, Luna's eccentric father and publisher of the Quibbler magazine. A rather fitting photo of Mr. Ifans as an elaborately garbed person can be seen here. During his appearance, TLC reader Neil writes that Rhys Ifans said the "HP wardrobe people flew out to Spain to fit him
for his robes while on the set of Mr Nice," a film which is now in post production. Rhys Ifans has appeared in many films, notably Notting Hill, Elizabeth: The Golden Age, and the soon to be released The Boat that Rocked. Update: You can now see additional photos of Rhys Ifans here in our Image Galleries. Also thanks to ComingSoon.net we can see video of his announcement via YouTube.
On a related note, UHP emailed us to let us know they spoke with agents for actress Clemence Poesy about her possible return to the part of Fleur in Deathly Hallows, however the negotiations are ongoing, and nothing is certain yet. We are working to learn more on this and will update when we can.
Please note: As with all the others, WB has not yet officially confirmed any of these casting reports, and we continue to await a formal release on these, however TLC believes the casting of Mr. Ifans as Xeno to be correct.
Thanks to SS, and especially Will, Nick, Neil, and all the readers who emailed about the Jonathan Ross announcement!