Issue Twenty-Six of Scribbulus Now Online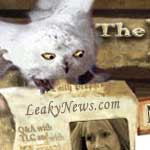 Mar 28, 2009
The twenty-sixth issue of Leaky's premier essay project, Scribbulus, is now online, filled with a variety of essays related to the Harry Potter novels for your reading pleasure. Our March issue features five essays, which include a character analysis of the character of Petunia Dursley, a side-by-side comparison of the childhoods of Severus Snape and Harry Potter, an analysis of the chess
game as portrayed in the Sorcerer's Stone film, a discussion of Hermione's parents, and a warning about reading the Harry Potter books.
We also give our congratulations, along with 100 MyLeaky points, to Moose_Starr, who has won the Reader's Choice Poll for his essay The Sphinx and the Spider from Issue 25. All authors who have their essays published in Scribbulus will receive 75 MyLeaky points as well.
This, and all of our previous issues of Scribbulus, are available on the Scribbulus section of the site. Information submitting your essay to Scribbulus can be found here, while you can also discuss our essays in our forum on the Leaky Lounge.
Enjoy!