J.K. Rowling to Attend Special Dinner with Mrs. Obama in London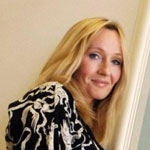 Mar 31, 2009
The President of the United States Barack Obama is making a diplomatic visit to the United Kingdom, and there will be a special dinner held for the spouses of those attending the G20 summit, which will take place this week. Sarah Brown, wife of the UK Prime Minister, is hosting the event tomorrow night for Michele Obama, wife of the President, at 10 Downing Street, and among the guests will be Harry Potter author J.K. Rowling. The Times reports that "seated on one side of Mrs Obama will be J. K. Rowling, the author; on the
other will be Kelly Holmes, the double Olympic gold medallist."
The paper continues:
Mrs Brown is in charge of the spouses' programme and has given much thought to
tonight's table plan. Rowling, the Harry Potter author who wrote the first of her best-selling books
when she was living on benefits as a single mother in a mice-infested
Edinburgh flat, has long been a vocal Labour supporter. Last year she gave
£1 million to the party…The menu, prepared by the chef Jamie Oliver, will feature seasonal produce
including Welsh lamb, Jersey Royal new potatoes and asparagus from Cornwall
or the Isles of Scilly."
You can read more on this event here from the Guardian. Readers will recall both the Obamas have spoken several times in the past (video on YouTube here) about being Harry Potter fans, and reading the books with their daughters. We are hoping to have photos from this event, and will update with more when we can.