Rhys Ifans Talks His New Role in Harry Potter and the Deathly Hallows as a "Great Guy"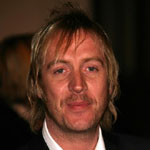 Mar 31, 2009
Late last week, actor Rhys Ifans (Notting Hill, Elizabeth: The Golden Age) announced on the BBC program Friday Night with Jonathan Ross he was joining the cast of Harry Potter and the Deathly Hallows. TLC was first to report that Rhys Ifans would be portraying the role of Xenophilius Lovegood, Luna's eccentric father and publisher of the Quibbler magazine. In a new interview today with Indie London, Mr. Ifans now goes on to describe joining the cast of the final Harry Potter films, saying "its kind of a real honour" to be asked to join the series, and that his character is "a good wizard ' a really great guy." He also notes he is going to be filming a part in Nanny McPhee Two with actress Emma Thompson (who as readers will recall declined to return to Deathly Hallows as Prof.Trelawney in order to focus on the second Nanny film). Full quotage as follows:
Q. Are you taking any time off?
Rhys Ifans: No. I hit the ground running. I'm working with Ben Stiller now. I fly back to LA on Thursday to do Greenberg, a Noel Baumbach film, with Ben, and Jennifer Jason Leigh. Then I fly back here to do Harry Potter & The Deathly Hallows, and after that I'll do Nanny McPhee 2, with Emma Thompson. So I'm busy, busy, busy.
Q. Who do you play in Harry Potter? And is this something quite new for you, to be doing family orientated movies?
Rhys Ifans: I play a wizard. The last few Harry Potter
films, I think they're really cool. I was never a real fan of Harry
Potter, but I love how they've become darker, and I love how Daniel
Radcliffe and his co-stars have grown up through the telling of the
story. Harry Potter is a little bit of history; it will be. So it's
been kind of a real honour being asked to be part of a project like
that, and though I haven't got kids myself, a lot of my friends have
kids, so it'll be great to do something they can see. He's a good
wizard ' a really great guy. In Nanny McPhee, I'm a bad guy, someone you'd boo and hiss at.
You can see many photos of Rhys Ifans here in our Image Galleries.