Actor Jamie Waylett Reportedly Arrested for Drug Possession in London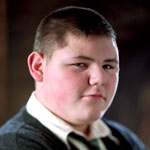 Apr 08, 2009
We have some troubling news to report tonight regarding one of the actors in the Harry Potter films. Stemming originally from a UK tabloid, world wide media have now carried the story that actor Jamie Waylett, who portrays actor Vincent Crabbe in the beloved film series, was arrested on charges of possessing an illegal substance. A rep for Scotland Yard told the BBC that police made the arrest after searching a car carrying 19 year old Jamie and a friend. "The car was searched and officers found eight bags of a substance believed to be cannabis," he said.
The report then goes on to state a search of the Waylett's home produced additional cannabis in the form of ten plants. "Officers found a number of plants believed to be cannabis plants and equipment for the cultivation," Scotland Yard said "Both men have been bailed until July pending further inquiries and tests on the substances."
MTV also points out that "Waylett, who has become a "Harry Potter" fan favorite, emerged from
massive casting calls in the early part of the decade to land his role.
A Slytherin student, Vincent Crabbe serves as one of Draco Malfoy's
minions but is as helped by his size as he is fatally flawed by his
dimness. An accomplice to the Death Eaters, Crabbe's wizard powers "
and his distaste for Harry " increase throughout the "Potter" series."
Readers will recall of course that Jamie Waylett is a long time friend to us here at Leaky. As distressing as this news is for us personally as we do believe this to be accurate, we can only imagine how upsetting this news is for his family, close friends, and of course his fans. At this time we do not know how this may impact his future role in the Harry Potter series, with filming ongoing for Deathly Hallows, and notably his involvement in the future filming of the dramatic scenes involving Crabbe in the Room of Requirement. Warner Bros has declined to comment as of now on this matter, and we are continuing to work to learn more on this report; more when we get it!