Review of Harry Potter and the Half-Blood Prince Video Game Soundtrack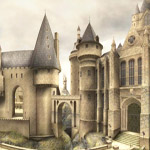 Apr 09, 2009
Thanks to music4games.net for letting us know about their review for the video game soundtrack to Harry Potter and the Half-Blood Prince. The music as reported several times previously was released last month, however the HBP video game from EA will not be out until July of this year. The sound track however, is already out and the review of the score by James Hannigan, concludes on a very positive note:
Fans of Williams' music for Harry Potter will thoroughly enjoy the musical world Hannigan has explored. Sequences like that for "Slytherin Combat" would work equally well in big orchestral moments even in the Star Wars
universe"distant musical stylistic sounds from the same composer.
While the shadow of Williams' music is cast over the music here, this
is very much Hannigan's own music. He is able to create plenty of
interesting thematic threads (a great one for Slughorn)
that run through the score without having to reiterate those created in
the films. This allows the music to be a self-contained valid
symphonic spectacle on its own with plenty of dash and polish to engage
players and listeners alike. In short, this new video game score is
perhaps one of the more delightful collections of music for this
classic literary character.