PotterCast 191: The Magic Castle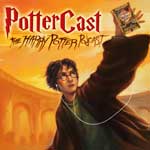 Apr 16, 2009
The 191st episode of PotterCast, our Harry Potter podcast, is online with the latest in Harry Potter and our first replacement Melissa! To start off the show, Sue gives us the latest in Harry Potter news including new Jason Isaacs interviews, Half-Blood Prince character posters, LeakyCon Keynote Speakers John and Hank Green (get your tickets here), TotalFilm feature on Half-Blood Prince, Jo Rowling attending the G20 Summit Dinner, some more Deathly Hallows casting news, and some possible rumors. Up next, a new round of listeners battle against our own John Noe in a new edition of Are You Smarter Than John Noe? Canon Conundrums is up next with a discussion on the pureblood in the other wizarding communities around the world. Finally, the drums bring the end of the show with round of applause for our first fake Melissa, talk of Mount Pelligrino, herds of cats, and much more. To listen, just hit the "Play" button on the right side of the page (–>), or use iTunes, or direct download.
"The Magic Castle"
Melis is in Italy, we have replacement Melissa!
Jason Isaacs is Lady Gaga.
vs. Hagrid.
Where have all the purebloods gone?
Dawlish a pureblood or does he have some muggleblood in him?
The Four Melissas.
The drums are in our head.
Go to youtube.com/pottercast for our daily vlogs.
Register for LeakyCon 2009 now!
RT: 75:32
Producer: John Noe
Editor: Stede Bonnett
Contributing Editors: Michael Beckett, Armin Vollstedt, Kaitlin Menzie, and Andrew Garner.
Also, special thanks to our ever-vigilant UStream Mods for monitoring the live PotterCast recordings.
LeakyCon 2009: A Harry Potter Conference in Boston
"Harry, A History" Website
Jingle Spells 2
PotterCast Vlogs
Podcast Alley
Digg
Direct download low-bandwidth (9MB).
Remember you don't need an iPod to listen. Listen easily on iTunes, which you can download and install here, by clicking here to listen, or you can just use the streaming Flash player at PotterCast.com or just on the right side of this page. Discussion of the PotterCast is right here. Enjoy!