Harry Potter and the Half-Blood Prince Video Game Release Now June 30?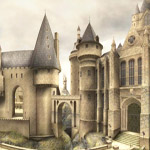 Apr 17, 2009
Note:if you are looking for information on the new Half-Blood Prince trailer, screencaps, posters and more, be sure to check this post.
Reuters has a new article regarding the video game industry and their struggle in these tougher economic times, with the piece noting there will be some good news this summer as "in June, Electronics Arts will release the "Harry Potter
and the Half-Blood Prince" game to coincide with the film of
the same name by Warner Bros Pictures." While only last week, retailers had the release dates reading July, however as of today on Amazon, all the various platforms of the new HBP video game now reflect a June 30, 2009 release date.
Harry Potter and the Half-Blood Prince will be released here in the US and Canada on July 15; you can read the current international list of release dates here. Be sure to check out the latest trailer released last month here, and our collection of stills from the game, here.
Update: Thanks to Emma from SS who owled to say Amazon UK now has their date a few days later at July 3rd.