Filming for Deathly Hallows Resumes Again in London Tonight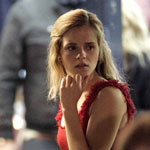 Apr 21, 2009
Location filming for Harry Potter and the Deathly Hallows is continuing tonight in London, England. TLC has crews in the area, and will have continuing coverage of tonight's events later as the evening progresses, stay tuned!
In the meantime, be sure to check out our Image Galleries for many many photos of the Cafe attack as well as the Trio fleeing dressed in their wedding attire, latest additions starting here. We have location video here as well featuring Dan Radcliffe Rupert Grint and Emma Watson filming in their wedding party clothes, hurrying down the streets of London.
In addition, Thanks to our wonderful Order partner Rupert Grint.net, who let us know about their nice high res pics here, as well as video up on YouTube of Rupert at work, here. Finally, Thanks to Popsugar also emailed to let us know about their collection of photos, here.
Another busy night ahead, stay tuned!