Michael Goldenberg to Keynote at LeakyCon 2009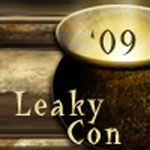 Apr 21, 2009
Today marks 30 days until LeakyCon, our first ever Harry Potter conference taking place May 21-24 in Boston, MA. To celebrate we will have a highlight or an announcement for you every day until then: to kick it off, today we're thrilled to announce another of our keynotes!
The Saturday afternoon keynote will feature screenwriter Michael Goldenberg, who wrote the 2007 adaptation of Harry Potter and the Order of the Phoenix!
This is a first-of-its-kind, absolutely unmissable event for Harry Potter fans which promises to be an entertaining and enlightening look at the process behind adapting the world's best-selling series for the big screen, as well as screenwriting and adaptation in general. In addition to Harry Potter, Mr. Goldenberg is the scribe behind the beloved films Peter Pan (2003), and Contact (1997). The event will take the form of a moderated discussion (I will serve as moderator) followed by question-and-answer session.
A ticket to this event includes a high-quality, catered lunch and spots are limited. The event is an absolute steal at $60 and can be purchased at this link. ONLY REGISTERED GUESTS may purchase a keynote ticket so register for LeakyCon now (at this link).
Remember, the main LeakyCon registration includes:
Welcome Feast
Leaving Feast
The Rocking Charity Ball
THREE enormous wizard rock shows with more than 15 bands performing
All in-conference programming
Vendor Room
Podcasts, including live PotterCast, Spellcast, Spinnerscast and more
Film screenings
And a lot more – an unbelievable and unparalleled value. And the entire conference is for charity, benefiting Book Aid International and the HP Alliance. You can see our slate of programming at this link.
Keynote are special events that provide additional insights and programming that are only available at the conference, and you can register for them at the time of your main registration!
IN ADDITION we are running a small competition. Simply Twitter the phrase "Michael Goldenberg, screenwriter of HP5, will be @leakycon2009! http://www.leakynews.com for details!" and one person who does so will win a FREE TICKET to the keynote for themselves or the registrant of their choice (so tell your friends to do it!). Go now! And remember to follow @LeakyCon2009 on Twitter. (If you win and have already bought a ticket, we will refund you: better to buy your ticket now than wait!)
Remember you can register for the conference here; you can get a room at our special rate (running out!) at this link.
Our other announced keynote, Nosh with the Nerdfighters, featuring John and Hank Green of Vlogbrother fame talking about community building and the HP phenomenon, is selling out fast. You can amend your registration to add this event here.
Another big announcement coming tomorrow… see you in Boston!