JK Rowling to Attend Harry Potter, the Exhibit?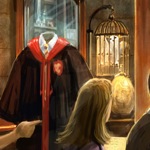 Apr 26, 2009
Following on our report from last night, previews begin today for Harry Potter, the Exhibit. NWI is giving a few new details on the event, and noted that Harry Potter author J.K. Rowling reviewed the plans for the massive exhibit, which features over 200 props and sets seen in the Harry Potter films. The president of the Exhibit group is quoted as saying "Rowling reviewed the exhibit plans and may try to see the show during
its five-month run. "She's got a very, very active schedule," Newquist
cautioned." TLC is trying to learn more about this possible visit, and will update with more when we can.
While yesterday we learned of the new guide and photos, here, today new details about the Exhibit itself include: Fans visiting the event will be greeted by the Hogwarts Express
( "so you feel like you've arrived at Hogwarts," one source said.) Also, there will be floating candles in the Great Halls set display, Professor Slughorn's costume will be added from Half-Blood Prince, and there are to be video interviews with the special-effects teams and costume designers playing in various points of the exhibit.
Finally, the paper notes: "The museum will host Snape-worthy chemistry labs during the show's run.
Children also can dissect owl pellets, and test their senses of smell
and taste by sampling Bertie Bott-style jelly beans. Happily, grumpy
Prof. Snape will not be in attendance to rap wayward pupils' heads.
Since Warner Bros. Consumer Products is backing the exhibit, expect the
show to exit into a giant gift shop."
Harry Potter, the Exhibit is taking place at the Museum of Science and Industry in Chicago running April 30 – September 27 and is open 9:30 a.m. to
4 p.m. Mondays through Saturdays, 11 a.m. to 4 p.m. Sundays. NO cameras are being allowed in the Exhibit. Advance reservations are strongly encouraged due to high demand. You can purchase tickets via this link.