"Half-Blood Prince" a Summer Movie Favorite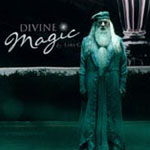 Apr 30, 2009
Reuters is reporting this morning that Harry Potter and the Half-Blood Prince is the most anticipated by movie goers, according to a recent a poll. According to the results, "thirty-nine percent of respondents in an online poll released on
Thursday by AOL website Moviefone.com named "Harry Potter and the
Half-Blood Prince" the summer movie they most want to see."
The article continued:
class="NONE" style="margin-bottom: 0px;">

class="leftrail">class="NONE" style="margin-bottom: 0px;">class="ad125″ id="advert_2866032″ onload="renderMask2866032()">
class="articleTools" id="atools">
Sixty percent of the 280,000 respondents said they expect the new
"Harry Potter" movie, which opens on July 15, to be the top box office
draw of the upcoming blockbuster season."It's going to be a big summer for 'Harry Potter,' people absolutely
love that franchise, and for the most part the films seem to get better
each time out," said Scott Robson, editor-in-chief of Moviefone.
Among the most anticipated movies, the sixth installment in the
"Harry Potter" saga was followed by: 29 percent for "Star Trek"; 12
percent each for "X-Men Origins: Wolverine" and "Transformers: Revenge
of the Fallen"; 7 percent for "Terminator Salvation" and 2 percent for
comedy "Bruno."
Moviefone also released their HBP set visit preview last week, and among the various bits of news in their piece, Rupert Grint stated that for the kiss his character Ron Weasley shares with Lavender Brown (Jessie Cave) it took ten times to get it right: "We were both quite nervous and [director David Yates]
was really good and only let it go on for about 10 takes." Only? To
make matters worse, Grint and Lavender were performing for a live
audience. "I had a room full of people cheering," Grint says.
Dan Radcliffe also had a funny story about filming a breakfast scene in the Great Hall as follows:
4. Radcliffe isn't exactly Homer Simpson when it comes to bacon.
During
the scene we watched filmed, Harry and Ron discuss a forthcoming
Quidditch match over breakfast in the Hogwarts dining hall; and take
after take we watch them nibble on seemingly fresh plates of bacon and
eggs. Sounds like a food lover's dream, right? Wrong. Radcliffe was so
sick and tired of bacon, he took to feeding a 10-year-old extra who
couldn't get enough of it. "I've been turning around and shoving all my
bacon onto his plate just to amuse myself," Radcliffe laughs. "He seems
to be having a good time." Mmmm?