Harry Potter and Half-Blood Prince Websites Update Roundup: Soundtrack, Exhibit and Contest News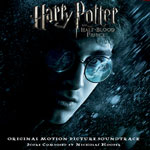 Apr 30, 2009
We have few quick update today regarding various things relating to official WB Harry Potter websites. First the official WB widget has been updated with video of Harry Potter, the Exhibit, and we have more video from the event here in our galleries. You can also now listen to a podcast on how they developed the exhibit here via this link. TLC editor Edward attended the special fan site preview held yesterday at the Museum of Science and Industry in Chicago, and he will have a full report online shortly, stay tuned!
Also the US Harry Potter and the Half-Blood Prince website now has some of the newer posters online, however there are others (all available here in our galleries) which seem to be only available via the UK edition. Also on the US site is a link now for "promotions, the current one being the previously reported London Premiere Sweepstakes which involves a grand prize trip for two to the premiere of Harry Potter and the Half-Blood Prince.
The contest will only be open to very select viewing markets and limited
amount of residents of only a few cities in the US. We will have much
more on this contest shortly, and will update with that in the near
future. What is of interest are the rules, which state that winners of
the trip will depart on either July 3 or 4 with a return of July 8 or
9th. Readers will recall there have been several reports about the premieres for the sixth Harry Potter film. WB has told TLC directly the tentatively set for HBP are still not officially confirmed as of yet. As we reported earlier, these tentative locations and dates are: Japan on July 6, London, England on July 7th and New York, New York on July 8th. We will update, of course once Warner Bros issues a formal release confirming all of these dates!
Finally, of interest are photos of the prizes to the sweeps, which include not only the Video Game which is due June 30 as TLC reported earlier, but also a peek at the new cover of the Half-Blood Prince Soundtrack, which you can see here in our galleries.