LeakyCon '09: Ministry of Magic to Perform on PotterCast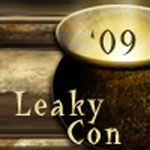 May 10, 2009
LeakyCon is coming and we are not yet done with announcements and surprises: We're thrilled to announce a PotterCast first today: Wizard rock band Ministry of Magic is set to appear on and perform at the LeakyCon 09 PotterCast (which is Saturday morning the 22nd and free with a conference registration). The band will be performing acoustically as well as sitting down for an interview, and we can't wait. See you there!
And now a bunch of helpful info!
LeakyCon is May 21-24 in Boston, MA, and we are almost out of tickets. You can register here before we are forced to close it.
Keynotes
Tickets to ALL of our keynotes are going fast (and keynotes do not clash with ANY other programming: there is no chance that when signing up for one you will miss anything else). Here, again, are the links to our other two terrific panels:
Q&A with Michael Goldenberg – click here to read, click here to register. (Remember to ADD YOUR QUESTION HERE, even if you are not going to the conference.)
Editors and Authors: Cheryl Klein and John Green – click here to read about it, click here to register.
Nosh with the Nerdfighters – click here to read about it, click here to register.
We are also holding a drawing for a signed one-of-a-kind collection of all 10 American-Edition Harry Potter books, donated by Scholastic and J.K. Rowling. For pics and video of the set, click here. Schedule of Events:
Thursday
Friday Morning
Friday Afternoon and Evening
Saturday Morning
Saturday Afternoon and Evening
Sunday
Don't forget, the main LeakyCon registration includes:
Welcome Feast
Leaving Feast
The Rocking Charity Ball
THREE enormous wizard rock shows with more than 15 bands performing
All in-conference programming
Vendor Room
Podcasts, including live PotterCast, Spellcast, Spinnerscast and more
Film screenings
And a lot more – an unbelievable value that is unparalleled anywhere. LeakyCon is a charity conference, with all proceeds benefiting Book Aid International and the HP Alliance.
We will see you there!