JK Rowling Continues Support for MS and other Charities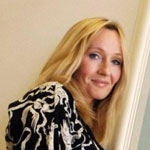 May 11, 2009
Scores of readers have emailed regarding new charity efforts from Harry Potter author J.K. Rowling.
First Jo is lending her support to a young man from Glasgow, Scotland who is trying to raise awareness of the importance of Vitamin D in the battle against Multiple Sclerosis. Scottish TV let us know about video they have with this youngster who "has launched a campaign for pregnant women and children to be given
extra doses of vitamin D, which scientists believe might prevent up to
80% of cases." You can read more about the Shine on Scotland campaign here.
Also the Glasgow Evening Times has an article which states that the Volant Trust, the charity started by J.K. Rowling and named in honor of her mother, has made a donation to help Braendam House. This home is place that gives "respite holidays for children and their parents or carers who face everyday poverty, discrimination and disadvantage." The home was facing closure,however thanks to this donation and others, it will remain open for the time being. Cath Morrison, chief executive of the Lilias Graham Trust, said the
new money would keep the charity going until at least next March.She said: "It is fantastic news. It was like TV's The Secret Millionaire."
Thanks to John, STV, Maddy, Kristen, JKRfan.com and all who emailed!