Bother! A Live PotterCast with Potter Puppet Pals Tonight!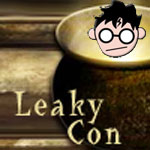 May 14, 2009
UPDATE: The show has now concluded, thanks so much to all who joined us!
Bother Bother its a great joy for us actually tonight as PotterCast is delighted to be joined by Neil Cicierega and the Potter Puppet Pals for a very special live broadcast. Tonight the very funny and talented creator of the hugely popular Harry Potter puppet pals will be joining us at 6:45pm tonight via our Ustream channel. You can listen here, but remember you must register (free and easy) to take part in the chat. Hope to see you there!
Don't forget the Potter Puppet Pals will be appearing at LeakyCon on Friday, May 22nd. Be sure to register for our first convention in Boston, Mass via this link!