Happy Birthday, Professor Sprout, Cherished Head of Hufflepuff!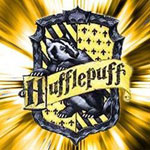 May 15, 2009
Listen now and you shall hear
wishes of a most Happy Birthday Cheer!
Today we celebrate the birth of Pomona Sprout
She cherished Head of Hufflepuff
and loyalty most stout!
For it was she who lead the way
that fateful day in May
With Neville and others who showed no fear
to fight the Dark Lord
with greenery that makes noise so deafening to the ear
With pride and joy we at the Leaky Cauldron gather round
to lift a toast as this editor issues a joyful sound
Hail Hail to Mighty Hufflepuff
Happy Birthday, Professor Sprout!!!