PotterCast 195: Edible to the Point of Delicious!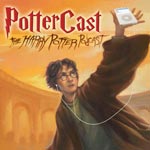 May 16, 2009
Today we have for you the 195th episode of PotterCast, our Harry Potter podcast, online for your listening pleasure. Sue's News kicks off this week with information about the July 7th release date for both the Half-Blood Prince Soundtrack and Deathly Hallows paperback, filming of Shell Cottage scenes in Wales, the LEGO J. K. Rowling, more casting rumors for the Deathly Hallows films, and a Potter Puppet Pals LeakyCon announcement. Melissa, Sue, John, and Frak then speak more about what we have planned for you at LeakyCon 2009, which takes place in Boston, MA next week. Register here before it closes! Up next, Bit-by-Bit returns with the Quartet discussing the twentieth chapter of Deathly Hallows, Xenophilius Lovegood. Finally, the show wraps itself up with a few questions from the UStream audience, talk of the upcoming PotterCast Summer tour, new MyLeaky features, the Wizard Rock People's Choice Awards Nominations, and much more. To listen, just hit the "Play" button on the right side of the page (–>), or use iTunes, or direct download.
"Edible to the Point of Delicious!"
Casting rumors surround Miranda Richardson and Bill Nighy.
J. K. Rowling in LEGO form.
"That's just one side of me."
Potter Puppet Pals to perform at LeakyCon.
"In the castle."
A rundown of programming at LeakyCon.
Bit-by-Bit is all about Xenophilius Lovegood.
Tickle me Elmo.
Update on the John Noe Chipotle Alliance.
Go to youtube.com/pottercast for our daily vlogs.
Register for LeakyCon 2009 now!
RT: 67:11
Producer: John Noe
Editor: Michael Beckett
Contributing Editors: Andrew Garner, Kaitlin Menzie, and Seth Brown
Also, special thanks to our ever-vigilant UStream Mods for monitoring the live PotterCast recordings.
LeakyCon 2009: A Harry Potter Conference in Boston
"Harry, A History" Website
Jingle Spells 2
PotterCast Vlogs
Podcast Alley
Digg
Direct download low-bandwidth (9MB).
Remember you don't need an iPod to listen. Listen easily on iTunes, which you can download and install here, by clicking here to listen, or you can just use the streaming Flash player at PotterCast.com or just on the right side of this page. Discussion of the PotterCast is right here. Enjoy!