New Poster Book Interviews: Evanna Lynch Talks Malfoy Manor and Luna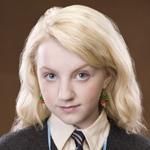 May 28, 2009
As we reported earlier, the new Harry Potter and the Half-Blood Prince tie-in books from Scholastic were due to be released this month. Thanks to Snitchseeker for letting us know they now have received scans of the Poster book (seen via this link), which contain a series of interviews with various cast members. Some of the questions we've seen recently, however there are some new nuggets of information, including a piece from actress Evanna Lynch on her character, Luna Lovegood. In the interview she reflects on what scenes she is anticipating filming for Harry Potter and the Deathly Hallows. Evanna said:
"I think it will be Malfoy Manor, as that is quite a frightening experience for Luna and she has to show a lot of her Gryffindor side (yes I do believe everyone has a Gryffindor side!) and take responsibility in ways she hasn't really had to do on her own before. It's a real test for her and I still am not quite sure how she will go about it…and I am excited to discover!"
She also tells a funny story involving cast members learning the Thriller routine from Youtube. Among the many interviews is one with Tom Felton (Draco) who notes he is looking forward to filming the Room of Requirement scene for Deathly Hallows as he is "looking forward to Harry saving my life!" Be sure to check out all the interviews including those with: Matt Lewis (Neville), Bonnie Wright (Ginny), James and Oliver Phelps (Gred and Forge), Jessie Cave (Lavender) as well as the Trio of Dan Radcliffe (Harry), Rupert Grint (Ron) and Emma Watson (Hermione).
Thanks much to SS and Rose!