Rupert Grint Rolling Stone's Hot Sidekick of 2009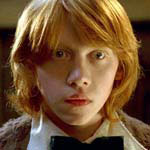 May 28, 2009
A new feature on Rolling Stone Magazine includes actor Rupert Grint (Ron Weasley) as part of their list of 2009 Hot List. Dubbing Mr. Grint their 'Hot Sidekick,' the magazine profiles the young actor who notes that the Harry Potter experience has "been exactly half of my life." He goes on to say of the experience: "It has been
really weird. I feel like I've completely changed really quickly. I
was going to a regular school, and then suddenly I did this
audition on a whim and then " well, it just sort of
happened." Rolling Stone goes on to talk of Mr. Grint's upcoming projects, as well as of the fan base Mr. Grint has cultivated during the past ten years. The full article can be found right here.
Thanks to Rupert-Grint.us.