Update from Harry Potter Prop Tour in London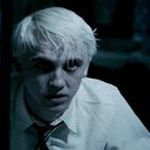 Jun 20, 2009
As we've been reporting, as part of the ongoing MSN WB tour promoting Harry Potter and the Half-Blood Prince, a traveling exhibition by bus is making the rounds in the UK, with the exhibit currently in London (open this weekend to public first serve basis), England. Yesterday actors Tom Felton (Draco), Matt Lewis (Neville) along with James and Oliver Phelps (Fred and George) made a brief appearance in Leicester Square, and we have photos here in our temporary galleriea. CBBC Newsround also now has more from the actors (loads of photos here) who speak to their characters in the sixth Harry Potter film. Quotage:
"Draco Malfoy actor Tom Felton said the new film is definitely much funnier. "There's lots to look forward to," he said. "I was laughing through the whole two hours." Matthew Lewis, who plays Neville Longbottom in the film series, said
fans will see his character getting more strong-willed and starting to
change in the Half-Blood Prince. "Every year, we always say 'it's much darker, this one', but this one really is. It gets pretty heavy in parts," he said."But the balance they've achieved with the comedy… the timing is wonderful. Jim Broadbent [Professor Slughorn] is superb, Rupert Grint [Ron Weasley] is on top form and it is very very funny."
We also hear a bit about the Weasley Wheezes set from James and Oliver Phelps who noted spoke about filming away from Hogwarts as their characters now have their own business.
"It was really cool because we got to work in probably the best set there," said Oliver."The set Fred and George have is so insane we weren't disappointed to be away from Hogwarts at the time," added James. "But when we saw the film I realised how much I missed the shoots in the Great Hall and on the quidditch pitch."
An earlier report from Newsround can be read here, with video online of just the prop tour in London here via ITN