Detailed Report of Location Filming for Ministry Entrance Scene in Deathly Hallows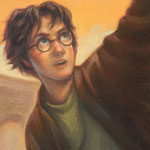 Jun 28, 2009
Several updates today from location filming for Harry Potter and the Deathly Hallows which took place in the Whitehall area of London, England. Previously TLC had told you that the part of Mafalda Hopkirk would be played by Sophie Thompson, and earlier there was news that David O'Hara would take on the part of Albert Runcorn, and Steffan Rhodri as Reg Cattermole. Thanks to Lauren from Dan Radcliffe.com we can see a very clear large size photo here.
Also thanks to several longtime readers of Leaky we have two reports from the set. First longtime friend to TLC Rosi sent in this fantastic report on the event, including description of a the scene film. She writes:
I arrived around 11.30, and one of the first things I saw was the crew
hosing down the set and walls of the buildings so that the camera
didn't pick up shadows. The scene was before the trio go into the
Ministry, and shot at Great Scotland Yard. One of the crew told me that
there were 150 extras on set (all dressed in business wear in dull
colours (beige, dark pinks, creams, browns and blacks) who had been
told to "walk with purpose" in the background. They had a couple of
buses (number 11) that they kept passing through the shot, but what we
mainly saw was the trio walking down the street, and then the three
older actors portraying the members of the Ministry the trio change
into also walking down the street exactly where the trio had gone. We
also got the chance to see a quite funny bit, where Ron walks in front
of Mafalda Hopkirk, bends down to tie his shoelace, Harry pops out of a
hidden door on the side (in his trademark long creamish jacket, a dark
burgundy shirt and I think jeans) stuns Mafalda who then falls into his
arms and then Harry drags him inside. It felt like they did that scene
about ten times (much to the delight of amused onlookers). After a few
more shots of the extras, and in the pouring rain, they wrapped for the
day around 4.30, a couple of hours earlier than they'd planned.
Also TLC reader Tiny Dancer was at the scene and she sent along these wonderful photos including of Emma in costume and more of Rupert and Dan in the scene described above, plus she let us know the following:
"They had the fans on the sidewalk across where filming was taking place first and then they moved us to the sides of the road while they did some scenes with the extras looking like bustling commuters. At a certain point in the filming we could see a small
fire burning (apparition?). The actors later went to The Royal
Horseguards and some of us fans waited for each to leave separately from the Twenty One Two Rest & Bar."
Thanks so much Rosi and Tiny Dancer!