Half-Blood Prince Game Released, Reviews and Game Clips Now Online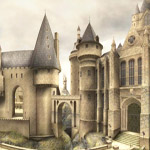 Jun 30, 2009
Attention fans! The Harry Potter and the Half-Blood Prince video game is now available here in the US. As such a few reviews are now online, notably from IGN which gives mixed marks for the various platforms of the game (very low to the DS, fairly good to PS3, XBox360). While there are plenty of spoilers in the articles, the reviewer for the PS3 points out:
"If you've read the books, you know what those bad things are, and if
you haven't, this game really isn't going to explain what's going on.
See, rather than have you play through the events of the movie,
Half-Blood Prince just kind of uses them as touchstones. Sure, you'll
participate in the big battles and see videogame cutscenes depicting
key moments, but these events won't really be properly explained nor
will they carry the appropriate impact. You're not here to play the
movie; you're here to live in the movie's universe…the story-related stuff can be polished off in about four or five hours,
but there's going to be a lot left to do for Harry Potter nuts or
people who are Trophy/Achievement whores (see: me). See, the game has
150 Hogwarts crests hidden throughout the school…this ability to explore also rewards you with seeing things you never
would've if you just played the game strictly by the numbers. Although
there's no reason to do it in terms of the game's tale, you can go into
the Charms classroom and see Flitwick as well as climb high into the
Owlery. Locations such as these don't serve a purpose other than a dose
of fan service and I'm all about that.
Be sure to check out a whole host of videos showing game excerpts via this link. The Harry Potter and the Half-Blood Prince now available at game retailers here in the US everywhere.