Auction For One of Original Pencil Sketches Done for Harry Potter Time Magazine Cover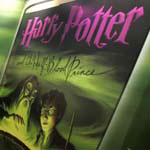 Jul 02, 2009
There is a new auction underway for a rare pencil sketch by Harry Potter artist Mary GrandPre for one of the three drawings she made to be used on the cover of Time Magazine in 1999. As seen here, Heritage Auction let us know this fabulous sketch is framed and signed by the artist on the lower left, and includes the following:
A handwritten note from Mary Grandpré attached to the back of this
piece reads, "This concept sketch was one of three done for concepts
for the Time magazine cover. It was not chosen for the cover.
It shows Harry surrounded by various characters and props — Ron and
Hermonie on the left, Peeves below, a flying key, the Snitch,
Dumbledore appearing in a pillar, and the Quidditch players above. (The
design allows for the Time masthead on top). The written note,
'bright green eyes,' refers to my own reminder to make Harry Potter's
eyes green after having made the mistake of making them blue on the Nickelodeon cover a few months earlier. As with many of my working sketches, this sketch is 'pieced' together with two separate tracings."
Internet bidding for this piece runs until July 14th before a live in house session in Dallas, Texas on July 15th. Thanks much Brenna!