Variety Review of Half-Blood Prince: Indispensable Rickman Delivers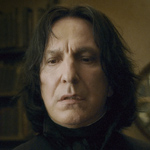 Jul 06, 2009
Variety has now posted their review of Harry Potter and the Half-Blood Prince, and it contains much praise for the sixth installment in the Harry Potter film series. Noting that director David Yates "displays noticeably increased confidence here, injecting more
real-world grit into what began eight years ago as purest child's fantas," and has made a film that is "film is clear-headed and clean-lined."
The long review notes the physical changes of the cast, but does hand praise to the efforts of the adult cast members in particular making mention of the actor who plays Professor Slughorn, saying "Jim Broadbent, who makes a terrific disguised entrance and is then simply grand as the eccentric old prof." Of note however are remarks about the performance of a critical character in the film.
"It's this chapter in the Potter saga that obliges the always nasty but
ambiguously motivated Severus Snape to show his true colors, and the
indispensable Rickman delivers, as always, with line readings that are
delicacies of the infinitely mordant kind. He is periodically egged on
by the insidious Bellatrix Lestrange, a role Helena Bonham Carter plays
with such mesmerizing abandon that one hopes the role fully pays off in
the final chapter.

Among the always outstanding production values and top-drawer visual
effects, special note should be made of series newcomer Bruno
Delbonnel's exceptionally atmospheric cinematography and Nicholas
Hooper's emotionally churning score, which contains only the slightest
trace of John Williams' original themes.
Thanks Taylor!