Half-Blood Prince Review Roundup: Radcliffe Has Never Been Better Than Here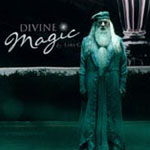 Jul 07, 2009
There are a whole host of new reviews for Harry Potter and the Half-Blood Prince online today before the UK premiere of the film later today in London. Most are very positive about the film, notable are comments from the Telegraph that remark on performances from both the adult actors and the Trio, especially on Dan Radcliffe as Harry Potter: "Increasingly, they give the
films their backbone, a central truthfulness on which all the magic hangs.
Radcliffe in particular, has never been better than here, displaying new
maturity and subtlety." The review continues:
"But these young actors are surrounded by one of the finest groups of British
acting talent ever assembled, and as the films get meatier, they shine ever
more brightly. Here Gambon, moved from the periphery to centre stage,
combines whimsy " "oh to be young and feel love's keen sting" " and real
authority. Helena Bonham Carter, as the shriekingly wicked Bellatrix
Lestrange, enlivens proceedings considerably; Alan Rickman motors
effortlessly from malice to pure malevolence as Snape; Maggie Smith brings
emotion as well as humour to the part of Professor McGonagall. New characters are effortlessly absorbed into this Rolls Royce of an ensemble:
Helen McCrory is both sinister and febrile in a tiny scene as Malfoy's
distraught mother; Jim Broadbent is a joy as the social-climbing Horace
Slughorn, who makes his first appearance disguised as an armchair."
The Evening Standard is less enthusiastic, however still gives the film three stars out of five, saying: "Broadbent is affecting as a man thoroughly out of his depth, unaware of
how his habit of picking teacher's pets has been exploited. Gambon's
performance as Dumbledore is shot through with looming pathos.
Sound-Screen UK emailed us with their review, giving high marks to Tom Felton's performance as the conflicted Draco Malfoy:

"Set a mission of his own Draco Malfoy (Felton) is elevated from one
dimensional school bully to a tortured and desperate, lonely teenager.
Increasingly afraid and with little hope of achieving his goal Felton
gives his Hitler Youth poster boy hitherto unseen layers and proves
himself worthy to the task. Acting with emotion and more than a little
class you may find yourself sympathising with the previously odious
Malfoy. In many ways the Half-Blood Prince is as much Draco's tale as it is Harry's, his actions changing Hogwarts forever."
Finally CHUD is also quite positive on the movie, speculating that the terrific performance by Jim Broadbent as Horace Slughorn ("a thing of beauty') might be an Oscar worthy one:

"And it has Jim Broadbent. Could a

Harry Potter

film make a showing at
the Oscars in a non-technical category? If Warner Bros plays their
cards right I believe that they could easily wrangle a nod for
Broadbent, who plays new Potions teacher Horace Slughorn. While
Slughorn, a retired teacher who Dumbledore needs back at Hogwarts as he
holds a vital clue to defeating the resurrected Voldemort, was never a
favorite of mine in print, Broadbent takes the role and does
unbelievable things with it. He plays a level of buffoonery that's
hilarious – we're introduced to Slughorn when he's morphed himself into
a recliner – but the actor also manages to bring a level of sadness
that is palpable and affecting. Slughorn 'collects' students; his
self-image comes from being the mentor to witches and wizards who went
on to do great things. In a momentary lapse of judgment he helped young
Tom Riddle, the boy who would grow up to be Voldemort, find the key to
a kind of immortality. Broadbent keeps the sadness and shame and regret
just under the surface, and when he fully brings it out he doesn't
overdo things. The performance is a thing of beauty."