Natalia Tena Talks Tonks in Half-Blood Prince and Deathly Hallows Script with LA Times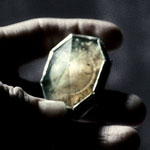 Jul 08, 2009
Actress Natalia Tena (Tonks) is the subject of a new interview from LA Times blog Hero Complex. In this interview, the actress speaks of her upcoming role in the Half-Blood Prince film, as well as her upcoming work on the final two Deathly Hallows films. Noting that she is set to start filming Part One of Harry Potter and the Deathly Hallows next month, she describes her reaction to first reading the script for the film. Quoteage:
"I've read Part One and it's brilliant, I wasn't so sure about the last
movie but this one I was like, "Yeah, they got it spot on." I'm
re-reading the book right now. I started having insane dreams again.
Whenever I start a Potter film, I get these dreams. The last dream I
had I was in a war and the sky was blotted with broomsticks and I
couldn't find my wand. It was so intense. I always have mental,
intense, war wizard dreams when I'm doing the films."
Speaking further in regards to the script for the final films, Miss Tena describes her feelings about the quality of the work by saying "I like the last because it's trial times. You really
get a sense of what everyone is worth. There's a point where Ron leaves
and I was like, "Wow, Ron actually isn't up for it for a bit." Also, I
really got a sense in the script that while Harry is important, it's
his mates that do a lot. Actually, if he didn't have these two mates
he really wouldn't be winning. He needs everyone to believe. It's quite
an interesting concept because then you ask, well, is it
interchangeable? Could it be anyone else that could have been the
Chosen One?"
The actress continues, speaking of her reaction upon first reading the final book by saying she found it "very intense."
"Suddenly you see my parents in the book and my mom is
supposed to look exactly like Bellatrix. It was intense. And I love the
fact that Tonks is pregnant. That she got married in the middle of all
this chaos. It's like she thought it would be a really good idea to get
married and get pregnant and keep fighting."
The interview then turns to discussion of filming the sixth film, Harry Potter and the Half-Blood Prince. On this subject, Miss Tena gives her thoughts on the Attack on the Burrow scene that was added to the film.
"I think they wanted to keep Tonks in it somehow. In the
book, she's very depressed all the way through until she finally she
gets with Lupin, that's when she gets her normal hair color back. In
the film, they just had me looking very strange with Lupin and that's
why her hair is a bit dark [instead of her favorite pink] and short,
though they don't explain it. In "Half-Blood Prince' a lot was edited,
and actually I thought a lot of stuff was added in unnecessarily. But I
haven't seen the film yet, so for all I know it works out well in the
end."
She goes on to note that many of the stunts she wanted to do herself, saying, "They wanted to get stunt doubles and I was like, "No, I want to jump
through fire!" Sometimes you do feel a bit stupid. I remember standing
with David Thewlis [who plays Lupin], and it's 3 in the morning, and
going, "Yeah, David, fight invisible fire snakes." It's like basically
dancing to nothing. You do feel a bit stupid at times, but it's funny."
The complete interview with actress Natalia Tena can be read over on the LA Times website.
Harry Potter and the Half-Blood Prince arrives in theaters July 15th.