David Yates on Ron and Hermione: "It was a hell of a snog"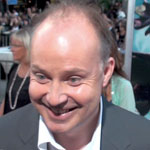 Jul 11, 2009
Leaky is currently going through its footage from the Harry Potter and the Half-Blood Prince premiere in New York City, and has this bit from David Yates that sheds a bit of light the big kiss between Ron and Hermione:
A: Emma said that she and Rupert were really feeling the pressure from the public for the kiss in seven. How did you guys combat that?
DY: It's a big moment for both of them. It's a huge moment in a series of films. I love that relationship between Ron and Hermione. I love the fact that it's so repressed and trapped and unrequited and unfulfilled. … I just said look guys, just give yourself to these characters. Let Ron take over, let Hermione take over. … And give yourselves to those characters, let them do the snogging. You shouldn't even think about it.
And it was a hell of a snog actually. Yeah it's really cool actually. They did brilliantly, I'm so proud of them.
Q: And there's a huge battle raging around them.
A: We're in the middle of a huge battle when they snog. It's pretty intense.
This and a lot more coming in TLC's premiere video!