Variety on Eight Harry Potter Films: Possibly Grossing 7 Billion in Worldwide Box Office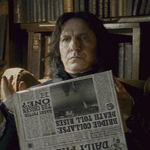 Jul 12, 2009
Here is an eye opening number for you: Variety has a new article online listing the upcoming blockbusters in Warner Bros lineup for the next four years, with the piece reading "Harry Potter and the Deathly Hallows, Part 2," directed by Yates and
starring Radcliffe, Watson and Grint. Opening July 15, 2011. The eight
films will probably win up grossing somewhere around $7 billion in
worldwide box office."
The industry magazine also has a second article online where it notes WB's continued investment in the Harry Potter franchise, mentioning the Wizarding World of Harry Potter theme park currently under construction in Orlando, Florida. The 20-acre venture will feature a slew of rides, restaurants and
attractions based on the books and films, including a 150-foot
recreation of Hogwarts Castle and Hogsmeade Village. Rides will feature
cast members from the pics." Readers will recall of course that actress Emma Watson recently confirmed that she filmed a piece to be used as part of one ride for certain.
Finally in an odd related note, on Friday, Harry Potter producers David Heyman and David Barron, along with director David Yates were the celebrity guests to ring the closing bell on Wall Street; photos here in our galleries.