LA Times: Michael Gambon "Sees No Point in Reading" Harry Potter Books by JK Rowling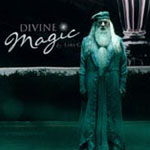 Jul 13, 2009
Over the years, one topic of debate hotly discussed in our fandom has been actor Michael Gambon and his portrayal of Professor Albus Dumbledore in the Harry Potter film series. Adding fuel to the fire has been his previous comments over the years regarding his deliberate choice to not read the source material found in the works of author J.K. Rowling. Michael Gambon repeats those same sentiments tonight in a candid interview with the LA Times Hero Complex blog, and also claims that apparently Ralph Fiennes (Lord Voldemort) and Alan Rickman (Severus Snape) have not read the books as well. There are many quotes of interest (SPOILER CAUTION) from the article as follows:
The choice not to read Rowling's book series, he explains, is deliberate and he points out that costars Ralph Fiennes and Alan Rickman haven't taken up the books either.

"You'd get upset about all the scenes it's missing from the book,
wouldn˜t you?" Gambon said via phone from New York, where he was
promoting the opening this Wednesday of the sixth "Potter" film. "No
point in reading the books because you're playing with [screenwriter] Steve Kloves' words."

And Kloves, along with director David Yates, have demanded an intense Dumbledore, who in the fourth film physically shook Harry when the boy wizard's name wound up in the Goblet of Fire.
It's a characterization that isn't as pronounced in the book —
Dumbledore doesn't yank and jostle his star student, for starters —
and it upset many "Potter" fans.

….

"He's got to be a bit scary," Gambon said of his Dumbledore.
"All headmasters should be a bit scary, shouldn't they? A top wizard
like him would be intimidating. And ultimately, he's protecting Harry.
Essentially, I play myself. A little Irish, a little scary. That's what
I'm like in real life."

The actor says the enormity of the "Potter" phenomenon hit him again
recently at the London premiere of "Half-Blood Prince' where more than
4,000 kids turned up to get a glimpse of the magical cast. Gambon
called it both heartwarming and bittersweet.

"I was really moved by the number of children there. It was raining
and everyone was drenched, some of them had been there for hours. You
feel responsible for them in a way. All their books and pieces of paper
for autographs were all wet, the pens wouldn't work. It was so sad. It
makes you realize how big this thing is."

The filming of the final Harry Potter movies, "Harry Potter and the Deathly Hallows'
is underway but Gamon's contributions aren't schedule until
February. He says that makes it feel as if the end is still far away
for him, but he has already begun to reflect on the experience.

"It's been," he said, "a real privilege.