IGN and the Top 25 Harry Potter Characters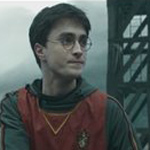 Jul 14, 2009
As a fun way to help build excitement before the release of Half-Blood Prince, IGN has created their Top 25 Harry Potter characters. Noting that they selected and listed the characters "based on overall fan reaction, impact on the
franchise (novels and films weighed equally), character relevance to
the best moments in the series, and significance in the Potter mythos." Starting at number 25 (Lockhart) to 12 Umbridge ( Steven King referred to Umbridge as "the greatest make-believe villain to come along since Hannibal Lecter.") the number one spot is held by none other than Harry Potter. The website writes:

It's a given, of course, that Harry Potter himself tops our list,
but it's important to still reflect on why the character has been so
universally accepted. He's a sympathetic figure… a kid plucked from
unfortunate circumstances and thrust into a magical reality. He
realizes he has been gifted with great power. And then he's pitted
against the ultimate evil in the wizarding world, Lord Voldemort,
who years ago killed his mother and father — everybody loves an
underdog story of good vs. evil. We've watched him grow up in this
fantastic setting — forming friendships, fighting foes, and finding
love.

While Harry only partially realizes his deepest desire, to see
his dead parents again, he is fathered and mothered by the care-taking
adults who surround him — Albus Dumbledore, Hagrid, Molly and Arthur Weasley, and Sirius Black
to name a few. His faithful friends Ron and Hermione are an extension
of this ad hoc family — as close as any real brother and sister. And
Harry has needed all the support he can get in his battle against those
who would do him harm — from school bully Draco Malfoy, to soul
sucking Dementors, the terrible Death Eaters, and ultimately the Dark
Lord himself.