Toot Toot! It's the Hogwarts Express Cake Coming Through!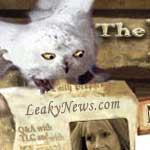 Jul 21, 2009
Toot Toot! It's the Hogwarts Express coming to a desert table near you! Well not quite near you perhaps, but once again master baker Duff Goldman of the popular Ace of Cakes program on Food Network has done a bit of cake magic for a Harry Potter premiere. Readers will recall of course, that Duff created the fantabulous Hogwarts castle cake for the OotP Premiere (video here) and later was a guest on PotterCast to discuss the unique cake. Thanks to this NY Magazine article on the private Half-Blood Prince afterparty in New York City recently, we can see Duff's latest creation, a giant Hogwarts Express cake ("complete with functional steam pipe " but was actually a five-layer chocolate cake.") He also spoke to our friends Feltbeats about this cake, seen here on Youtube.
On a related note, scores of readers have been owling about a blog which has taken an interest in various Harry Potter cakes. While many we have seen before here on Leaky (including one that was made for a former staffer's wedding), you can see these cakes here and here. Also don't forget our own wonderful Crafty Witches have long had a section Harry Potter cakes, which you can see here.
Thanks guys!