Harry Potter, The Best Beach Book Ever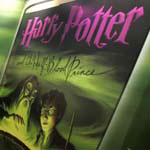 Jul 29, 2009
Ah sweet summer, the time when many of us take time off and head to the beach or holiday for rest and relaxation, and perhaps a fair bit of reading. As such, National Public Radio recently conducted a poll of the Best Beach Books Eve, and the Harry Potter series by author J.K. Rowling took the top spot. Out of a list of 100 books best read on holiday, the top ten choices were as follows:
1. The Harry Potter series, by J.K. Rowling
2. To Kill a Mockingbird, by Harper Lee
3. The Kite Runner, by Khaled Hosseini
4. Bridget Jones's Diary, by Helen Fielding
5. Pride and Prejudice, by Jane Austen
6. Divine Secrets of the Ya-Ya Sisterhood, by Rebecca Wells
7. The Great Gatsby, by F. Scott Fitzgerald
8. The Hitchhiker's Guide to the Galaxy, by Douglas Adams
9. Fried Green Tomatoes at the Whistle Stop Cafe, by Fannie Flagg
10. The Poisonwood Bible, by Barbara Kingsolver
Thanks to TLC staffer Mysterylover Anne for the heads up! What say you: which of the Harry Potter series is your favorite to read at the beach or holiday? Have a favorite, or too tough to call? Feel free to give your thoughts below in the comments.