New Lucius Malfoy, Ginny Weasley Dolls Due from Tonner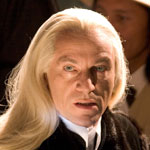 Jul 31, 2009
More news tonight on the new Harry Potter product watch, as Tonner Dolls has updated with two new collectible dolls for their Harry Potter collection. Due late this holiday are the Lucius Malfoy Death Eater Doll based on the likeness of actor Jason Isaacs, and the Ginny Weasley at Hogwarts Doll based on the likeness of actress Bonnie Wright.
The Lucius Doll, which is due to retail (expensive as only Malfoys would have it) at $249.00 USD, is described as follows: "Sculpted in the likeness of Jason Isaacs as LUCIUS MALFOY DRACO's malicious father is making his much anticipated debut. The servant to the DARK LORD comes wearing an meticulously crafted reproduction of his DEATH EATER costume, including an intricate faux leather shirt, finely tailored trousers, faux leather belt with "silver" clasp, and embroidered robe. Socks, faux leather boots, and resin DEATH EATER mask also included; includes display stand."
The Ginny Weasley Doll will retail for $159.00 dollars, with the description reading: "Sculpted in the likeness of Bonnie Wright as GINNY WEASLEY Romance blossoms between HARRY and RON's little sister, the determined and protective GINNY WEASLEY. GINNY WEASLEY at HOGWARTS comes dressed in her HOGWARTS uniform, which includes a cotton Oxford shirt, pleated skirt, knit tights, faux leather slip-on shoes, custom-knit sweater, striped tie, and robe with HOGWARTS emblem. Wand also included; includes display stand."
Thanks much arikagranger!