August 2009: The Crafty Half-Blood Prince Contest!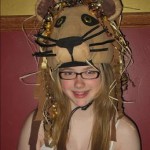 Aug 01, 2009
August 2009: The Crafty Half-Blood Prince Contest!

Wasn't the movie awesome?
And now that most of us have seen it, let's be honest and admit a few things here.
How many wanted to yell "BACK THAT FILM UP" at the projection room when Dumbledore walked out with that knitting magazine, Knitter's Own? Oh come on, you know you did. I know this because I was biting my tongue to keep myself from doing it . 😀
And yelling 'pause' it when Hermione wore that lovely knitted cap so you could get a good look at the stitches? Oh don't tell me you didn't. I heard you echoing it right behind me! Same when Molly Weasley appeared in that sweater too!
The costumes…. the props…. all of it so amazing.
So now here's your chance Crafty Potter Fans!
The Leaky Cauldron Crafty Witches are sponsoring a contest for your best recreations and reproductions of clothing or items from Harry Potter & the Half Blood Prince.
For inspiration or closer looks, you can browse our Half Blood Prince galleries here at The Leaky Cauldron
Start your planning now! Starting August first you may submit your entries to [email protected]. Please attach your photos, a description of your craft, include your name and/or Leaky Lounge user name, and make sure to use "Contest Entry" in your subject line!
And now, the moment you have all been waiting for….
We're pleased to announce the winners of The Crafty Half-Blood Prince Contest!
First Place
Luna's Lion Hat, by gryfndrprefct347


Second Place
Harry's Advanced Potion Making Book, by katandcon

Third Place
Pygmy Puffs, by Rosie016

Also participating in this contest, and very worthy of mention was mieljolie with her version of Arnold the Pygmy Puff!