Deathly Hallows Update: Rumors on Possible Seven Potters Filming, Scrimgeour, Plus New OotP High Res Photos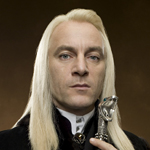 Aug 06, 2009
We have several pieces of news and new photos to update you on tonight. First in a series of interesting emails, TLC has received word that possible exterior shots and filming for the Seven Potters scene for Harry Potter and the Deathly Hallows is due to take place next week at the Bovingdon Airfield in Hertfordshire, England. Oclumencia has also received this same report and now has some curious photos of filming lights lining the airstrip as seen via this link. We should point out this source is very much unconfirmed, and to further that, additional reports say that rehearsals with crowds of extras as guests for the Bill and Fleur wedding are taking place in old air hangers down the road from Leavesden studios, possibly at this same airfield. We are working to update more on all of this and will update with more when we can, but for the time being please consider this very much in the rumor category for now.
Second, TLC has more on scenes involving Bill Nighy as Rufus Scrimgeour in Deathy Hallows. We have heard independently on a what is being reported on HP4U regarding two scenes for Scrimgeour where he makes a speech regarding "dark times ahead." TLC can add our sources say this will take place at the Ministry with 15 photographers and up to a crowd of 50 plus worried and anxious employees. The HPU4 article also say that "He [is] also thrown straight in at the deep end and tasked with the job of
reading out the will of Albus Dumbledore and distributing out his
belongings; a scene filmed in the sitting room at the Burrows – so yes,
to all of you who've written in to ask, it is re-built! We also understand Bill worked on one of the blue screen stages for photographs to be included in the Daily Prophet."
A reminder too, that filming on the wedding scene from Deathly Hallows is reported to begin next week in earnest.
Finally, thanks too to Oclumencia, and especially to Thiego for some lovely new high res photos from Harry Potter and the Order of the Phoenix. This editor was quite pleased to see this fabulous high res still of Jason Isaacs as Lucius, as well as this fantastic shot of Umbridge (Imelda Staunton) at her desk, individual photos of the Trio and more, as well as many on set photos with director David Yates (including this very eeriy one of Lucius and Harry with the prophecy globe)