Who Cast the Owl Crop Circle Spell?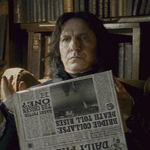 Aug 17, 2009
There is a rather offbeat yet fun Harry Potter reference in the news today as there is a report that a giant owl crop-circle has appeared in a field in England as a tribute to the late pet of Harry, Hedwig. The Telegraph reports that a new series of mysterious crop-circles (patterns cut in farmers fields) have appeared this summer in fields in Wiltshire, the most recent being this 400 foot pattern, perhaps as tribute to the late bird from the Harry Potter series. The paper says: "crop circle specialists are searching for a meaning, and some are
convinced it is a tribute to the teenage wizard. Steve Killick, a Harry Potter fan, said: "It is very exciting to think
that there are fans of Harry from other galaxies. "Most of the world has fallen in love with Harry Potter so it makes sense
that most of the universe will do eventually too."
While no word on who might have cast such a crop circle spell, or is the work perhaps of clever mischievous Muggles wishing to propel the rumor Hedwig lives 😉 others dismiss such a possible tribute:
"Pattern expert Karen Alexander dismissed the claims.She said: "The owl is an ancient symbol of wisdom, so perhaps it is a
message to people that we should be thinking deeper about the world around
us."This is obviously a time of some upheaval in the world so perhaps this is a
sign that we should be looking backwards for some wisdom in how to deal with
today's problems, rather than anything to do with Harry Potter."
What say you: A sign from Dumbledore, a gift in memory from the aliens, work of bored Muggles in the night? Feel free to weigh in below.