Charity Auction: Dan Radcliffe, Matt Lewis, Imelda Staunton Autographed Bears, Photos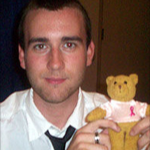 Aug 19, 2009
There is a new charity auction underway for autographed teddy bears to help in the fight against breast cancer featuring three items from stars of the Harry Potter films. Running now until August 27, bidding is underway for the following:
Bear signed by actor Dan Radcliffe (Harry Potter)
Bear,autograph and photo of actor Matt Lewis (Neville Longbottom)
Bear, autograph and special bonus signed photo of actress Imelda Staunton in her role as Professor Umbridge.
The Project Teddy Bear helps benefit the Avon Walks charity to benefit breast cancer. Other auctions include those from Felicia Day, Kristin Bell, Nathan Fillion and author Neil Gaiman, with upcoming auctions to feature donations from director Tim Burton, singer Josh Groban, acclaimed actors Cuba Gooding Jr, Val Kilmer, star of LOST Jorge Garcia, TV host Jay Leno and many many more. Further information can be found here. Good Luck to all bidding!
Thanks Heidi!